Dr Agata Sobczyńska-Malefora
MSc, PhD, FRSC, CChem, CSci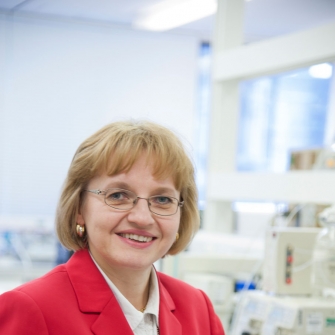 Consultant Clinical Scientist
Dr Agata Sobczyńska–Malefora is a Consultant Clinical Scientist at The Human Nutristasis Unit (Viapath, St. Thomas' Hospital, London) and an Honorary Senior Clinical Lecturer at King's College London. She is also a Fellow of The Royal Society of Chemistry and a member of Alzheimer's Disease Society. In 2015, she was granted Chartered Scientist and Chartered Chemist awards. She is a HPCP Registered Clinical Scientist (modality: Biochemistry). Additionally, she is a member of CluB-12, a group of expert scientists and clinicians in the vitamin B12 field from around the world whose aims are to stimulate discussion on the uncertainties surrounding Vitamin B-12, promote and encourage research into all aspects of Vitamin B-12 metabolism and disseminate research findings to clinicians and the wider general public.
Agata joined the Nutristasis Unit in 2000. Her strong analytical skills, developed throughout a MSc in Chemistry (University of Wrocław), initially guided her towards improving and developing analytical methods, which included the addition of a methylmalonic acid in plasma test (functional marker of vitamin B12 deficiency) to the Unit's diagnostic repertoire in 2004. Her collaborative work with the Russian Institute of Haematology and Transfusion, St. Petersburg, investigating the prevalence of hyperhomocysteinemia and the MTHFR C677T polymorphism in patients with thrombosis, influenced her research interests in the direction of one carbon metabolism which she pursues up to this date. In 2010 she successfully completed a PhD in Medicine (King's College of London) investigating hyperhomocysteinemia and B vitamins status in patients receiving oral anticoagulation therapy.
Her current research focuses on the diagnostic utility of markers for vitamin B12 and folate deficiency, as well as the evaluation of the reference intervals for these markers. She believes in reference intervals of two or more dimensions and is currently working on several projects in relation to this e.g. pregnancy-specific reference ranges for all vitamin B12 markers; ethnicity related cut-offs for serum B12; sex and age related cut-offs for ferritin concentration in serum. Agata also collaborates with scientists and clinicians from around the world and regularly presents her work both nationally and internationally. To date she has written and presented 43 abstracts and authored many publications in peer-reviewed journals. She has reviewed articles for The European Journal of Clinical Nutrition; Journal of Postgraduate Medicine; Nutrition & Metabolism; Diagnosis; The Scandinavian Journal of Clinical & Laboratory Investigation; Journal Ophthalmology and Clinical Research; Bentham Science Publishers; PLOS ONE; Nutrients; Polish Archives of Internal Medicine; British Journal of Nutrition; Therapeutics and Clinical Risk Management; Public Health Nutrition; Biomedicine & Pharmacotherapy; International Journal for Vitamin and Nutrition Research; SAGE Open Medical Case Reports; International Medical Case Reports Journal; Medicina; BMJ Case Reports, BBSRC grant funding body; BMC Medical Genetics.
Furthermore, Agata has supervised a number of under-graduate and post-graduate students. She regularly provides training and teaching to doctors, scientists and staff members. She contributes to the training of undergraduate medical students at Guy's, King's & St. Thomas' School of Medicine through provision of a Special Study Course entitled "One carbon, vitamin B12 and homocysteine metabolism in clinical practice". Students have frequently praised her teaching skills: "A huge thank you to Agata Sobczyńska-Malefora for being a fantastic supervisor during this project"; "I just wanted to express my appreciation for sharing with me your beneficial knowledge over the past few weeks. Thank you for giving me your time and providing me with the opportunity to learn about the work you do here"; "Thank you very much Agata. I'm very grateful. It's been a great privilege working with you over the last few years. The NHS needs outstanding Clinical Scientists like yourself."
Her other achievements include receiving a Travel grant award from the Medical Research Council for the development of a project entitled "Is high folate and low B12 status associated with a higher risk of Gestational Diabetes Mellitus?" and receiving the Bill Richmond Prize (won at the Association of Clinical Biochemistry meeting) for a presentation entitled "A baby with severe vitamin B12 deficiency".