Dr Dominic Harrington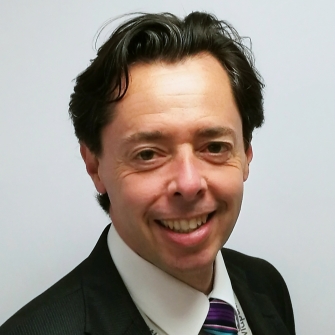 Dominic joined the Haematology Research Laboratories at Guy's Hospital as an undergraduate in 1990 before moving to join the Centre for Haemostasis and Thrombosis at St. Thomas' Hospital four years later.
During this time Dominic became increasingly interested in the part that vitamins play in health and disease, leading him to set up the 'Nutristasis Unit' (the word is his) to develop and apply novel markers of vitamin status to support patient care in 2002.
"We are wholly reliant on dietary and other exogenous sources of vitamins to support a wide array of metabolic and developmental functions. The suboptimal supply, or impaired utilisation, of these compounds disturbs metabolic networks and confers a wide variety of negative health outcomes e.g. hastened progression of degenerative diseases, haemorrhage, anaemia, skeletal and vascular disease to name but a few."
"There is a common misconception that sub-optimal vitamin status is rare in the UK. This view is partly driven by the use of out-dated laboratory testing strategies that have limited clinical utility. 'Traditional' laboratory tests routinely used to determine vitamin status are frequently too insensitive to detect patients who would benefit from nutritional support until an advanced pathological deficient state has developed."
"The diagnostic value of long-standing assays is often not challenged. Our approach is simple. We examine existing diagnostic strategies and question just what is it that the laboratory assay is measuring? What is this assay really telling us? Although the measurement of total circulatory levels gives a good indication of current body stores and dietary exposure for some vitamins (referred to as static status markers); greater insight can often be gained when these assays are used in combination with functional biomarkers that directly reflect status within target tissues (functional status markers)."
"Some of the services that we offer are unique when developed. We subsequently support other institutions who wish to develop similar services. This is illustrated by our experience with the vitamin K assay. We began and administer the Vitamin K External Quality Assurance Scheme (KEQAS) which is now affiliated with UK NEQAS and is a UKAS accredited proficiency testing provider No.8595. We have participants from 15 different countries. Through this scheme we assist in the development and harmonisation of methods for vitamin K analyses and their application to nutritional and clinical studies."
In 2005 Dominic completed his Ph.D which focussed on the development and application of methods to investigate vitamin K metabolism.
He is Director of the International Quality Assurance program for vitamin K; a steering group member of UK NEQAS Blood Coagulation; and scientific advisor to UK NEQAS Haematinics.
He has been a Chartered Quality Professional since 2008.  
Recent awards and recognition include: Serco Global Innovation Award Winner for 'Improving Lives through Innovation'; Serco Civil Government Divisional Award Winner for Innovation; UK Department of Health 'Extraordinary you – Healthcare Science' recognition; Advancing Healthcare Awards 'Research into Action – Nutristasis'; Advancing Healthcare Awards 2016, The Academy For Healthcare Science award for innovation