Professor Edward Odell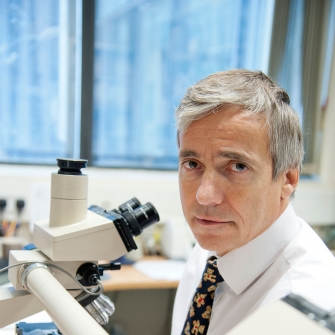 Professor of Oral Pathology and Medicine
Edward has been working in histopathology at Guy's Hospital since 1988 and joined Viapath on formation.  
He undertakes research with particular interest in oral cancer and pre-malignancy and teaches undergraduates and trains postgraduates in medicine and dentistry. 
He has published over 180 peer reviewed science papers and is the author of several text books including standard texts in the field of head and neck disease.  He has particular expertise in image based ploidy analysis for predicting the development of cancer in the upper digestive tract and runs the only routine pathology service for this test in the UK.
He has specialist diagnostic expertise in dysplasia grading, odontogenic, salivary gland and thyroid tumours.