Richard Hall
Bsc(Hons) FRCpath1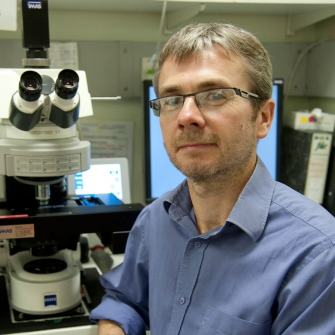 Director of Operations- London South Genomic Laboratory Hub
Richard began his career in veterinary science, performing research on equine viruses at The Royal Veterinary College. However, he had left university with a strong interest in Genetics, in particular the field of Human Cytogenetics, so was delighted to be accepted for a training post in Clinical Cytogenetics at St George's Hospital, London in 1995. He joined the Cytogenetics laboratory at Guy's Hospital in 2003 as a section leader, and went on to become a Consultant Clinical Scientist.
He has worked at three of the four London Genetics Centres and has developed a reputation for improving the efficiency and clinical effectiveness of Genetics services through innovation and careful resource planning; becoming Service Delivery Manager for the integrated Genetics Laboratories was therefore the next logical step in his career.
The Genetics service at Guy's has an international reputation for pioneering service development and Richard considers himself extremely fortunate to be a part of a laboratory service that provides such excellent patient care.
Richard is an Honorary Teacher, KCL, a Member of the British Society for Genetic Medicine and an Assessor for UKNEQAS Cytogenetics.